Harrogate Dog Grooming

Hi! My name is Penny Wood and thank you for visiting my website.
The Shop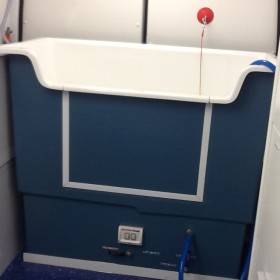 Newly decorated, there is a comfortable reception area, with Wi-fi access and magazines, where you are welcome to sit and wait for your pooch to be pampered if you would like to.
The grooming room is separate and secure with a pen for dogs to wait if you are running a little late for pick up. There are NO CAGES!
Within the grooming room, there is a feature wall of a beautiful field on a sunny day to remind your pooch of their favourite pastime, after being groomed, WALKIES!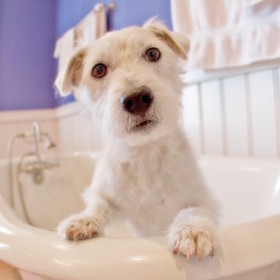 We have brand new equipment including a therapeutic Hydrobath which is a state of the art bath excellent at removing dry and dead skin cells and getting through the thickest and longest coats in double quick time. The Hydro bath will also massage your dog whilst it is being bathed which can be beneficial for pets with ailments such as arthritis or poor blood circulation. The shampooing products which I have chosen to use are all 100% natural ingredients and have been created by professional dog groomers.
There is a turbo hair dryer which will dry your pooch in double quick time, and a finishing styling dryer. The grooming table is electric and lowers down to floor level so no dog will ever need to jump or be lifted onto the table. My grooming equipment is all brand new and professional salon standard.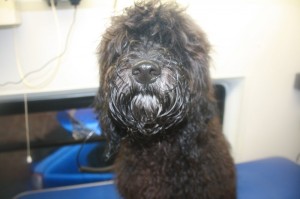 I am fully insured and qualified to City & Guilds Level III which I passed with Distinction. This qualification is not only important with regards to learning how to groom a dog to either breed standard or pet trims, it also teaches the importance of health checking every dog we groom and how to assess a dogs temperament and deal with each dog on an individual basis. Your dog will always be completely secure during the entire grooming process.
Your dog will only be with me for as long as it takes me to groom them. So for example, if your appointment is for 9am and they are finished at 10.30am, they will be ready to go home then.